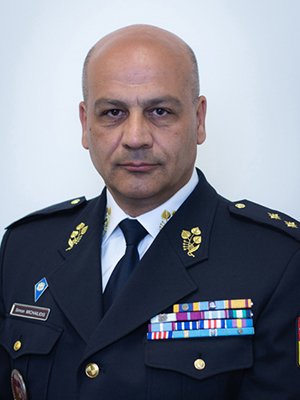 Maj. Gen. Simon Michailidis
Distinguished ladies and gentlemen,
I am glad that I can take over the patronage over the Future Forces Forum 2022 international meeting on behalf of the Prison Service of the Czech Republic. I am participating at this meeting as Director General of the Prison Service for the first time this year, as I took over this position from my predecessor Petr Dohnal just a year ago.
When our planned meeting was postponed twice over the last two years due to the unfavorable epidemic situation, hardly anyone of us could have imagined that in just a few months, Europe could face a much greater danger. A totalitarian regime based on lies and corruption, hostile to everything from abroad, invaded a neighboring country and since then has been continuing its criminal aggression, committing war crimes against the civilian population of the attacked state by destroying it systematically, reviving colonial manners of 19th century, terrorizing, and persecuting its own citizens and threatening all other countries with nuclear war. Today, more than ever, it is evident that unity, alliance, and solidarity are values that need to be strengthened. Meetings and forums such as this one help not only to consolidate these values but also to create new bonds, new alliances and conclude new agreements and, in this way, coordinate actions and strategies that support resistance to aggressors and enable to help those who are endangered by them.
Although we and our NATO allies do not participate directly in the war in Ukraine, the war directly affects us because we have stood up to protect the attacked state and we try to help it in every possible way. We have also clearly demonstrated to the aggressor that we are not going to accept exploitation related to raw material dependence and that law and moral principles stand above our own comfort. Thus, we must deal with all the consequences the war brings, whether direct or indirect. At this moment, we must take numerous measures to limit as much as possible the impact of hostile actions on our economy.
Of course, the deteriorating international situation also has an impact on the penitentiary field, both in terms of ensuring the safety of guarded facilities and inmate escorts, as well as in the previously mentioned unfavorable economic situation. Despite these difficulties, we continue to try to improve the level of the Czech prison system, we proceed with modernization of the Czech Prison Service and try to introduce modern communication and security technologies into prisons. A long-term decline in the prison population has now halted, with numbers increasing again this year. This poses multiple tasks and challenges to our security corps which are not easy to deal with in the current situation but at the same time it makes our determination to overcome this difficult time successfully even greater.
Therefore, I look forward to our upcoming meeting and believe that the forum of experts from various security fields will contribute to the development of cooperation and understanding which are necessary for the restoration of peace in Europe and further development of international community.
Maj. Gen. Simon MICHAILIDIS
Director General of the Prison Service of the Czech Republic