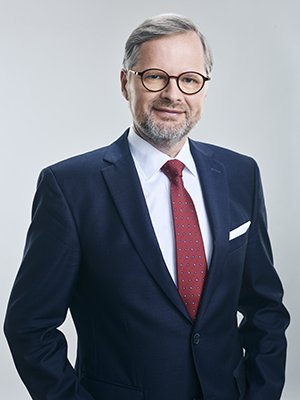 Prof. PhDr. Petr Fiala, Ph.D., LL.M.
Dear Ladies and Gentlemen,
Defence and security policy issues are topical for a responsible state at any time, but today we must address them with particular urgency. I am pleased to have taken over the patronage of this year's Future Forces Forum project, which is an opportunity to bring together the public and private sectors to discuss new trends, knowledge, and development of cooperation in defence and security areas.
Russia's military attack on Ukraine has changed the international situation overnight. This aggression is not only a threat to Europe, but to the whole world. The last six months have shown once again that it is vital for us to invest in our defence and to intensify our cooperation with our allies within the European Union and the North Atlantic Treaty Organisation.
In light of the current events, I would like to remind you that our government has taken clear steps from the beginning so that the Czech Republic finally lives up to its commitment to NATO to spend 2% of its gross domestic product on national defence. The government has committed to this target in the 2025 defence budget and, circumstances permitting, we will try to achieve it a year earlier.
In parallel, the government is taking the necessary steps to modernise the Czech Army. We are working to accelerate modernisation, planning to procure Swedish infantry fighting vehicles, modern German tanks, the most advanced American fighter jets, and other equipment from both domestic and foreign production (with foreign purchases conditional on significant cooperation with domestic manufacturers and research).
In addition to the expenses to increase defence capability the Czech Republic government has allocated military aid to Ukraine worth approximately CZK 3.7 billion. We are helping Ukraine for moral reasons, but also in the interest of our own security.
The Czech Republic remains one of the safest countries in the world. That is good news, but we must not take it for granted. We are now witnessing a dynamically changing security environment, in which we are increasingly facing cyber threats. I, therefore, consider it very beneficial that the Future Forces Forum project opens this topic in its panel discussions and workshops.
I am convinced that through this platform we will be able to promote and successfully develop cooperation among public administration, Czech industry and academia. All these sectors need to work closely together to strengthen our security and robustness. I thank the organisers for preparing the event and wish all participants an inspiring debate.
Prof. PhDr. Petr FIALA, Ph.D., LL.M.
Prime Minister of the Czech Republic