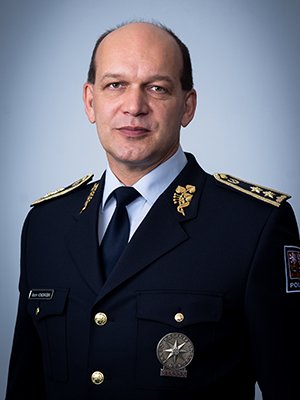 Major General Martin Vondrášek
Ladies, gentlemen, colleagues, partners,
Allow me to address you on behalf of the largest security force, the Police of the Czech Republic. Corps, which enjoys the greatest trust of the citizens of our country, which is not easy to gain, but even easier to lose.
In recent years, the Police of the Czech Republic has had to cope with a number of challenges, whether it was the extremely extensive security measures following the explosions in Vrbětice, the Covid-19 disease pandemic, the refugee wave from Ukraine or the current migration crisis. However, we have repeatedly demonstrated an unprecedented ability to adapt and respond flexibly to current threats. All the challenges we have had to deal with would have been far more difficult if it had not been for the true professionals who see their profession first and foremost as a mission, the conscientious fulfilment of which contributes to maintaining the high standard of security to which citizens are accustomed. For this daily effort, often at the expense of their own leisure or comfort, I am very grateful to all my colleagues.
In this context, I am extremely pleased that we are also continuously succeeding in providing adequate technical facilities, an area that is experiencing continuous development at the Police of the Czech Republic.
Within our exposition you have the opportunity to get acquainted with the functioning of a number of mobile technologies, which today and every day allow us to increase the ratio of the service performed in the field compared to the service performed in the offices. However, the mobile secure platform, mobile biometric suitcase or mobile operations centre are only a fraction of the Czech Police's exposition. Police drones, which have earned their firm place in our equipment in the last few years, are also an integral part of it, as well as special service vehicles designed for commanders or protective frames developed for our needs, which we use in some types of service vehicles.
I am therefore convinced that we have something to present, something to be proud of and something to inspire with. I firmly believe that the technological development we have already achieved is a significant promise for the years to come, as we certainly do not intend to slow down in the development of modern technologies.
Finally, I would like to thank the organizers of the Future Forces Forum project for the space provided, and wish all participants success and many inspiring meetings and experiences.
Major General Martin VONDRÁŠEK
Police President