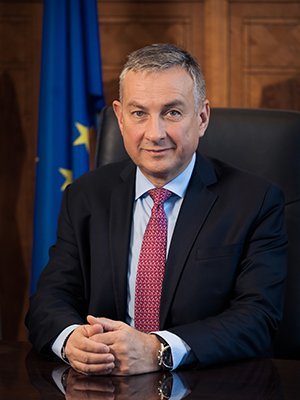 Ing. Jozef Síkela
Ladies and gentlemen,
In the current tense international situation, the Defence and Security Industry is of paramount importance. The Ministry of Industry and Trade is well aware of this fact. Protecting the security interests not only of the Czech Republic but also of the entire European cultural area is now one of the key priorities of the Czech Government.
The Defence and Security Industry is a strategic sector in terms of national security, the concept of strategic autonomy of the EU and also in terms of the application of innovations and new technologies. This vital part of the economy, which relies for more than 85 % of its production on exports, needs to maintain and further increase its international competitiveness, especially in the face of the ongoing Russian invasion of Ukraine.
As the current situation demonstrates, it is imperative to ensure the sustainability and development of our Defence Industry's capabilities and to strengthen the Security of Supply system. The national Defence Industry must be further fostered. So that the Czech Republic does not lose its strategic suppliers of materials and services and thus be left to create dependence on foreign states. To ensure that the Defence Industry can withstand competitive pressures and not get overtaken by large multinationals.
Therefore the Ministry of Industry and Trade actively supports domestic manufacturers. Whether it is, for example, through the government's support of research and development, stands at exhibitions and trade fairs both at home and abroad, or through expert support for the Defence Industry in foreign markets, expert foreign missions, trade missions and official visits abroad.
The Future Forces Forum is regularly visited by foreign experts, which creates an opportunity to establish contacts between them and representatives of the national Defence and Security Industry. The Future Forces Forum is thus an ideal platform for in-depth discussion in form of workshops, conferences, panels and expert discussions. It represents a culmination of activities for the defence and security community aimed at long-term support and cooperation between the state, national industry and research and educational authorities in the field of Defence and Security.
I am pleased that this year yet again welcomes numerous foreign participants and thus helps to put the Czech Republic, and Prague in particular, on the map of important defence exhibitions.
Ing. Jozef SÍKELA
Minister of Industry and Trade of the Czech Republic