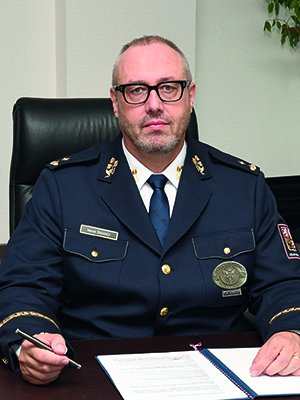 Brig. Gen. Mgr. Marek Šimandl, MPA
Ladies and gentlemen,
The Future Forces Forum brings together the latest technologies in the field of defence and security and especially in the light of recent events it is becoming increasingly important. I am pleased to take over the patronage of this project on behalf of the Customs Administration of the Czech Republic.
The Customs Administration of the Czech Republic is a security force. In addition to protecting the financial interests of the Czech Republic and the EU, it has an irreplaceable role in ensuring the safety and security of EU citizens. The demands placed on the EU customs administrations by the EU and the European Commission have recently increased rapidly, especially in the non-fiscal area, for example in the area of sanctions. However, the tasks related to the fiscal control of goods have remained at the same level and also the activities leading to the circumvention of customs duties, taxes and other charges on the import of goods are not decreasing. Our service focuses not only on controls of goods entering the EU but also on goods moving on the internal market. The Customs Administration of the Czech Republic uses the latest technology to ensure fast and efficient performance of its activities. Over the past two years, we have acquired from European projects, for example, a special vehicle for the detection of narcotic drugs and psychotropic substances containing the latest technologies such as a handheld X-ray, an endoscope and a Raman spectrometer, or two mobile luggage X-ray machines, one of which scans on the basis of dual-view technology. Both X-ray systems were deployed in the framework of international cooperation with the Financial Administration of the Slovak Republic for the protection of the external border of the European Union between Slovakia and Ukraine.
The Future Forces Forum fair creates a space for monitoring new trends and developments in the field of security and defence and for the mutual exchange of experience on international level, which is indispensable for security forces.
Brig. Gen. Mgr. Marek ŠIMANDL, MPA
Director General of the General Directorate of Customs